White Bedrooms for a Totally Serene Sleeping Space
Your bedroom is the ultimate place for rest and relaxation. It's the room where you begin and end each day, so it should be a space that you truly love. And if you're thinking it might be time to revamp your sleeping space, you've come to the right place. Although redoing your bedroom might sound like a tall task, it can actually be much less stressful thank you think. Instead of overcomplicating your renovation plans, we suggest going back to the basics and opting for one of these white bedroom ideas. We know what you're thinking: "All white? How boring!" But check out this list before you knock the neutrals. There are so many ways to make white fit your aesthetic, whether your style is rustic, modern, or somewhere in between. A white bedroom offers you the ability to add nearly any kind of furniture and decor you desire. You can make the room all-white everything or add in some splashes of color; with white as the base, just about anything will work. One of the best parts about having a white bedroom, though, is how the color makes the room feel so serene and calm, which is exactly what you want when you're trying to fall asleep. Take a look below for lots of white bedroom inspiration.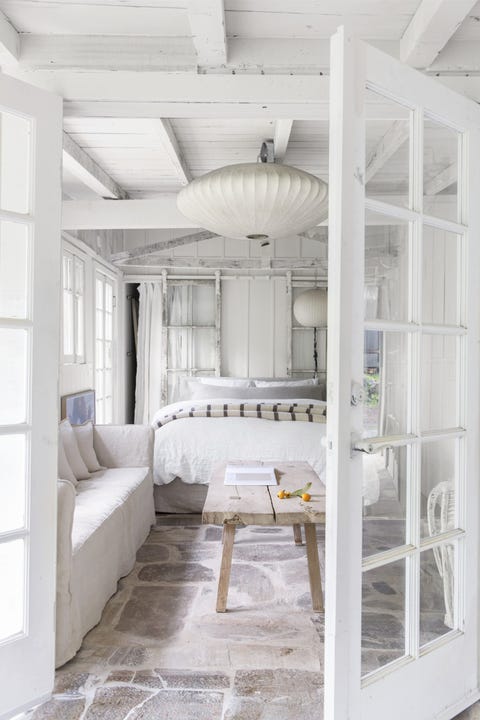 Mix and Match
Leanne Ford's beautiful bedroom is a balance of country and city accents. Upholstered pieces, like the slipcovered sofa and a linen headboard with crisp bedding, add a rustic touch. The midcentury lightning, which includes a vintage George Nelson saucer bubble pendant, offers more of a modern feel.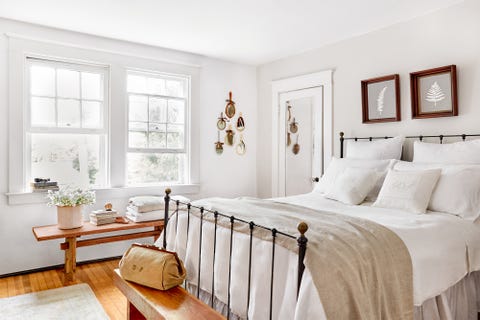 Calm and Collected
A simple iron bed, soft stonewashed linen bedding, clean-lined farm benches, and unadorned windows help the bedroom in this Maryland bungalow feel serene. Jeannette Fristoe, the owner of the home, says the hand mirrors, which hang from ribbon, were inspired by a trip she took to England.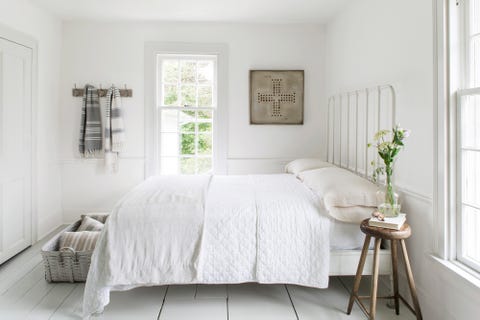 Understated Elegance
Nancy Fishelson, a "neutrals enthusiast" and the owner of this abode in Orchard Park, New York, has spent decades honing in her approach to an understated decorating scheme. The simplicity of the white guest room allows the wide-planked floors to shine.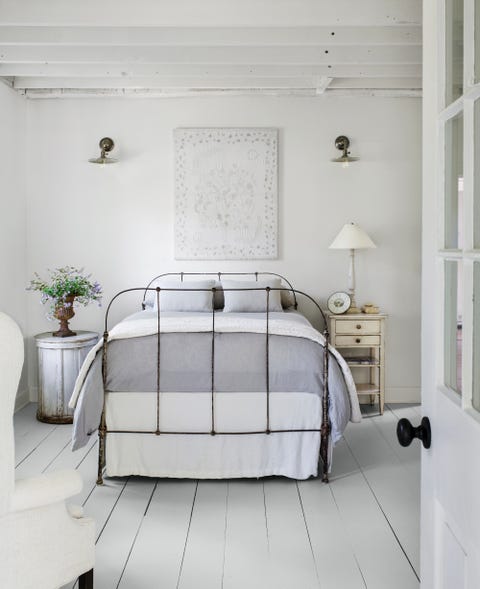 Intricate Artwork
In Nancy's master bedroom, an elaborate canvas hangs above her iron bed. The furniture is cozied up with an antique whitework bedcover and flanked by a wooden hamper and two-drawer table.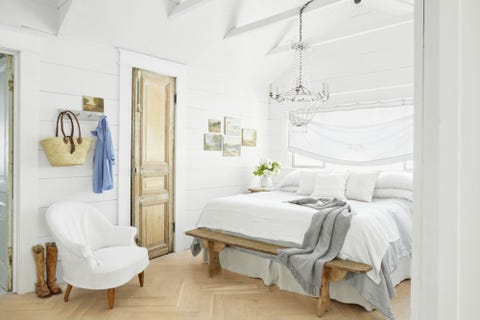 European Influence
In Maria Carr's airy California residence, the master bedroom is awash in a variety of whites. She replaced the original 1970s Western swing doors on the closet with an 1800s French door, hung a French chandelier, and a added a bench from—you guessed it—France.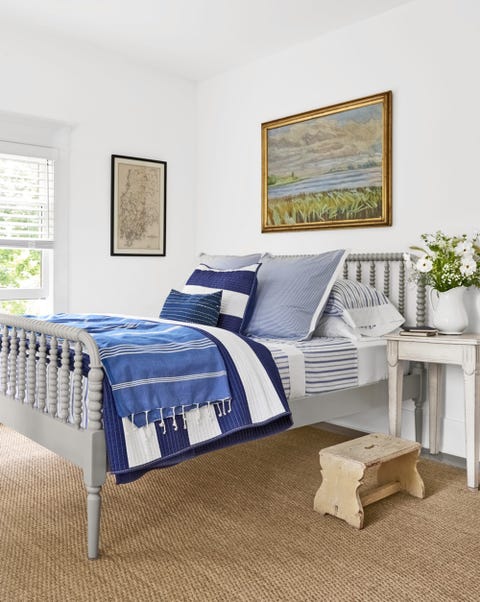 Hints of Color
Don't be afraid to add some color to your white bedroom. Loi Thai's entire house in Maine is filled with blues, greens, and moody, misty grays. "Mornings are foggy here, so the grays remind me of the fog rolling in," he says.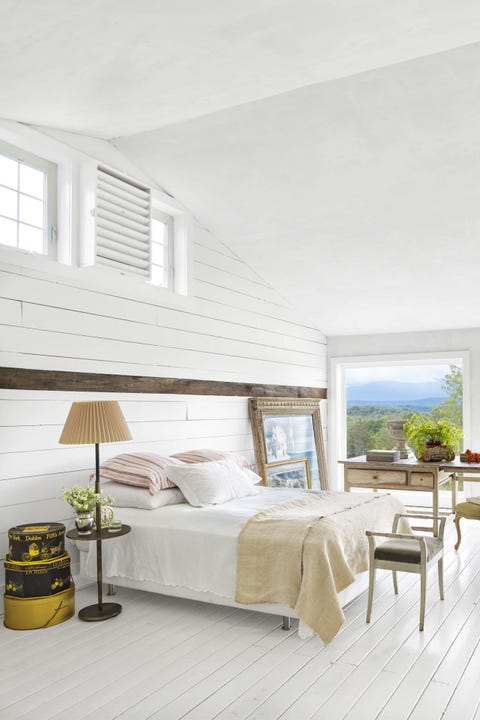 Shiplap All Over
This paneling-covered barn loft turned bedroom feels extra big and open thanks to minimal furniture and the neutrals featured throughout.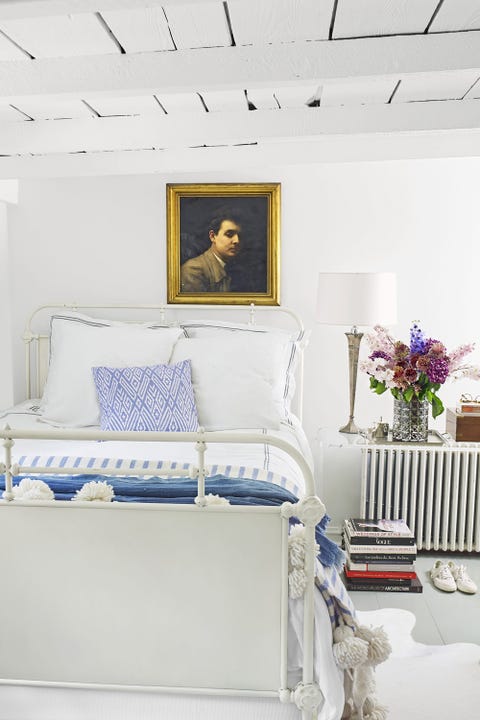 Airy Aesthetic
The mix of antiques found in this Hamptons master bedroom feels fresh thanks to the various soft shades chosen for the walls and furniture.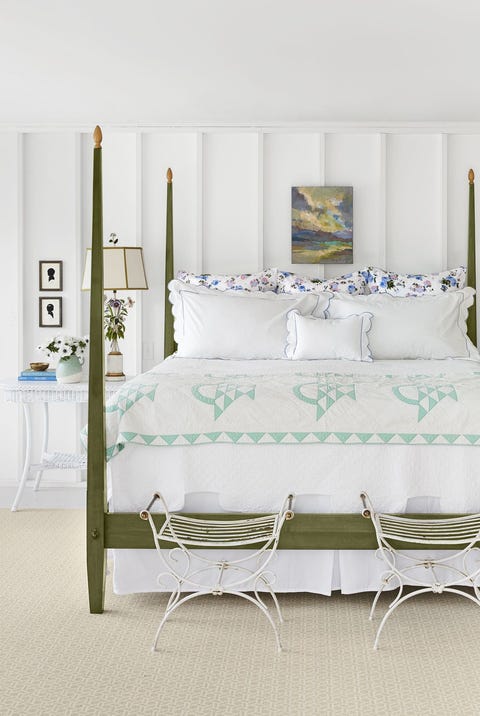 White Panels
Take a cue from the owner of this dreamy Michigan lake house and add some interest to your neutral bedroom by installing wide-set panels on all of your walls.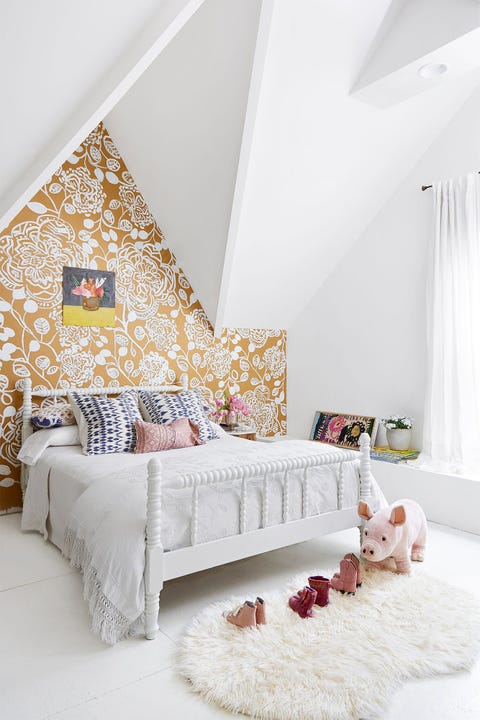 Pretty Wallpaper
With washed out furniture, floors, ceilings, linens, and more, this large bedroom needed something warm and special, which inspired this Mississippi farmhouse owner to create a statement wall with a custom stenciled wallpaper design.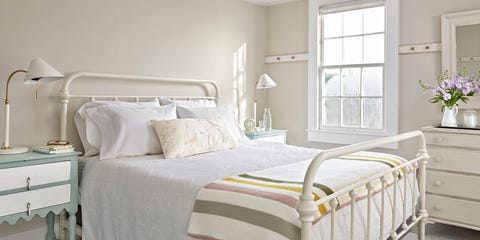 Warm Whites
Prevent your colorless bedroom from feeling cold and stark by featuring warm white shades throughout. With a collection of distressed ivory antiques and peg rail-lined walls, this historic home's bedroom is nothing but cozy and inviting.